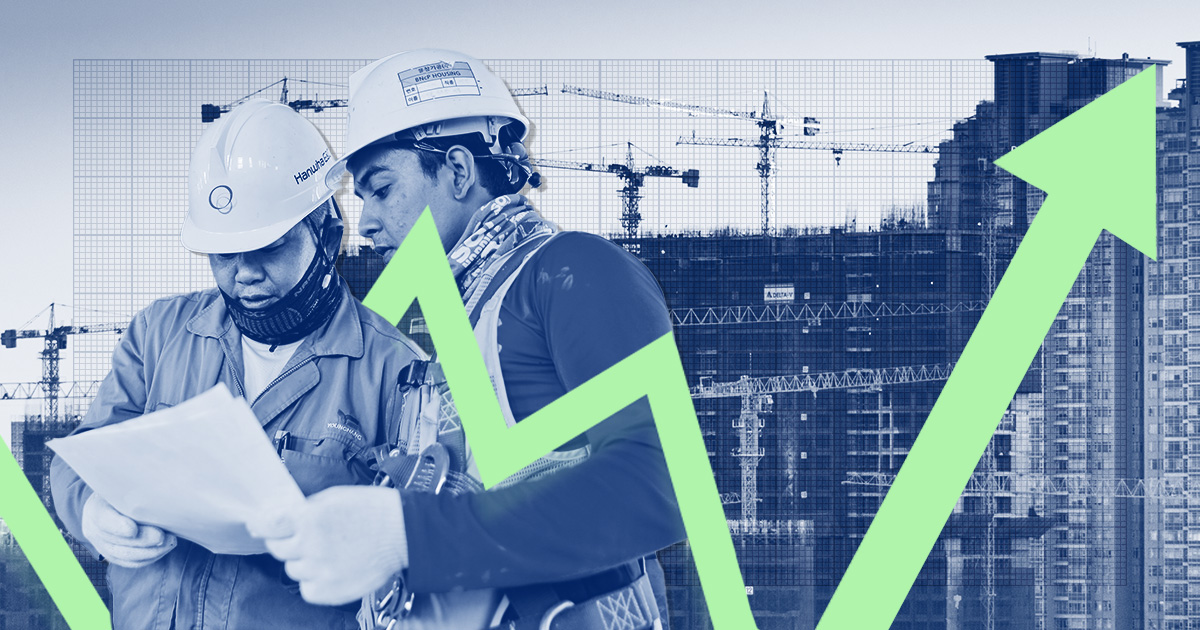 The Landscape of Change: The Building Climate in the UK and Globally
An Industry in Transition
In an era of resilience and reinvention, the construction industry, both in the UK and globally, is a shining example. Despite significant hurdles, the industry's agility continues to astound and impress. Let's go further into the most recent trends, statistics, and research to get a full picture of the present construction climate. While doing so, we'll look briefly at how emerging technological solutions, such as BuildScan.co and BuildPrompt.io, are contributing to this evolving dynamic. 
Exceptional Growth in the Face of Difficulties
Despite the pandemic's negative consequences, the worldwide construction industry is showing signs of recovery. According to Mordor Intelligence, the global construction market will be worth $11.4 trillion by 2025, with a compound annual growth rate (CAGR) of 4.2% from 2020 to 2025 [1]. This expansion reflects the industry's ongoing recovery and resilience.
The building business in the United Kingdom shows a similar picture of sustained expansion. According to the Office for National Statistics, the overall production of the UK construction sector was £117 billion in 2019 [2], indicating a robust market in an uncertain terrain.
2025
$11.4 trillion
A predicted compound annual growth of the global construction market of 4.2% over the past 5 years.
[1]: *Global Construction Market – Growth, Trends, COVID-19 Impact, and Forecasts (2021-2026)*. Mordor Intelligence (https://www.mordorintelligence.com/industry-reports/construction-market/).
[2]: *Construction data for the United Kingdom, 2019*. National Statistics Office. https://www.ons.gov.uk/businessindustryandtrade/constructionindustry/articles/constructionstatistics/2019
Parallel to this expansion is a significant shift towards sustainable construction. This trend indicates an industry-wide recognition of the construction industry's environmental responsibilities. According to a Dodge Data & Analytics report, more than half of UK construction businesses are expected to have implemented sustainable construction technologies into more than 60% of their projects by 2021[3]. These data reflect a global trend in the building industry towards adopting sustainable practises.
[3]: *2018 World Green Building Trends*. Dodge Data & Analytics is a data and analytics firm. https://www.construction.com/toolkit/reports/world-green-building-trends-2018
Along with the shift towards sustainability, the construction industry is undergoing a rapid digital revolution. Construction companies have forced to quickly embrace digital technologies to maintain operations and comply with safety rules as a result of the COVID-19 pandemic and legislative changes and reforms[4]. Traditional construction workflows are being transformed by digital tools such as project management software, virtual and augmented realiy, artificial intelligence and many more.
Among the new digital alternatives, the workflow management app BuildScan provides a practical solution to a typical construction issue. The technology streamlines the snagging process, which has traditionally been time-consuming and prone to errors. It allows builders and homebuyers to log, monitor, and communicate about construction difficulties, promoting openness and efficient resolution.
[4]: *The COVID-19 epidemic has increased digital construction adoption*. McKinsey & Company is a consulting firm. https://www.mckinsey.com/industries/capital-projects-and-infrastructure/our-insights/the-covid-19-pandemic-has-accelerated-digital-adoption-in-construction
The Human Factor: Construction Workers and Their Skills
The construction industry's transformation is about more than just technology and sustainability; it's also about the workforce. building firms are becoming increasingly conscious of the need for trained employees, as complicated building projects frequently necessitate particular expertise. According to a recent research, the UK construction industry would need to hire and train approximately 400,000 people each year until 2021 in order to meet the country's housing and infrastructure needs [5].
Our plan with BuildPrompt is to alleviate this pressure by streamlining the current communication and information processes. BuildPrompt is cutting edge technology developed and engineered by leading experts in Natural Language Processing & AI. It allows users to input their documents and it swiftly scans thousands of pages of data in under a second, delivering clear, precise answers in response to simple prompts. With the capacity to translate and speak 50+ languages, global teams can now effortlessly bridge the gap between files and facts, without the need for multiple versions, translated for each geographic location.
The rising demand for qualified personnel is also encouraging greater diversity in the construction business. Companies are increasingly investing in training courses to recruit people from all backgrounds, promoting a more inclusive workforce [6].
[5]: *Workforce Issues in the UK Construction Industry*. Randstad. https://www.randstad.co.uk/employers/specialties/construction-and-property/construction-workforce-2021/
[6]: *Construction diversity*. Construction Updates. https://www.constructionnews.co.uk/agenda/analysis/diversity-in-construction-where-are-we-now-22-03-2021/
The construction business, both in the UK and globally, is undergoing rapid transformation. It's an industry in transition, experiencing tremendous difficulties but demonstrating extraordinary adaptability. As we traverse these turbulent times, technological tools and a shift towards more environmentally friendly practises portray a bright, yet potentially challenging picture.
The industry's future depends on embracing these developments and rising to the challenges they present. As we continue on this path, we may anticipate a more sustainable, technologically advanced, and inclusive industry that will support a positive and forward-thinking building climate.